Abundant Life Church is pleased to offer you a ride to church.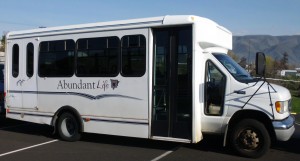 Buses are available on Sunday mornings for Clarkston residents
and Wednesday evenings for youth living in Clarkston.
Call the church in advance to arrange a ride.
A bus is also available for our Ladies' 10 AM Bible study on the second and fourth Wednesday's of the month. Contact the church office for more information.
**A Handicapped accessible bus is available.