Abundant Life Church is pleased to offer you a ride to church.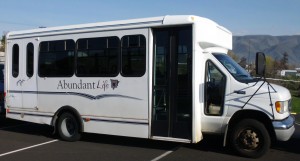 Due to Covid restrictions, our bus ministry is not available at this time.
Buses are available on Sunday mornings for Clarkston residents
and Wednesday evenings for youth living in Clarkston.
Call the church office at 509-758-4911 before Friday at noon
to arrange a ride for Sundays.
**A Handicapped accessible bus is available.